BLOG - collectors coffee table
For as long as I can remember I have been a huge lover of books. Not so much reading, per se, but rather the book as an object. Perhaps this is why I have such a hard time reading anything other than the news or emails on my iPad. When I sit down to read and retain, I need a book in my hands and the sound of pages turning and marking my progress. There is something quite ancient and fascinating about books. Few things have survived in their original design and intention for so long. From the time of Gutenburg and the invention of movable type in the mid-Fifteenth century, our use of printing, binding, and distribution of literature has remained the most important advancement of mankind.
A printer's press, like the one above (c. mid 16th century), could print up to 240 pages per hour.(From Wikipedia)
Books for me have been an escape and obsession. I began collecting art books in high school and by the end of college my "library" outgrew my dorm room. Perhaps this is why I was initially drawn to my first apartment in New York. Once the broker told me that it was originally the library of the foundation that previously occupied the building, I was sold. Two walls of the living room were lined with beautiful old bookshelves.
Georgia and I are kindred spirits in this regard, and it shows in much of the design work that we do and the furniture we have created. Both the Bibliophile's Dining Table and Collector's Coffee Table were born out of a need for some way to contain our amassing collections. When my husband and I were beginning to plan the layout of our new apartment, we knew that we wanted and needed plenty of bookshelves. As planning turned to design, I began scouring the internet (and my books of course!) for images of the perfect home library. Over the course of the past few years I have found a new obsession-photographs of libraries and books. Below are a few of my favorites. Starting out with one of my dog, Bailey, happily resting on one of our new shelves.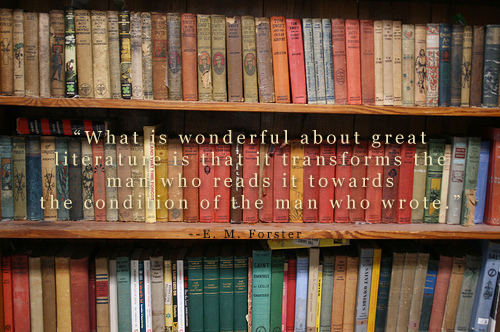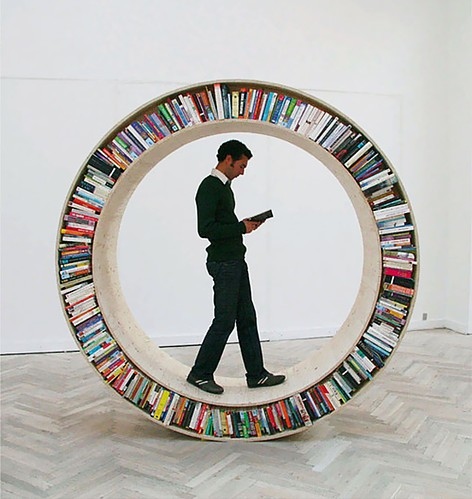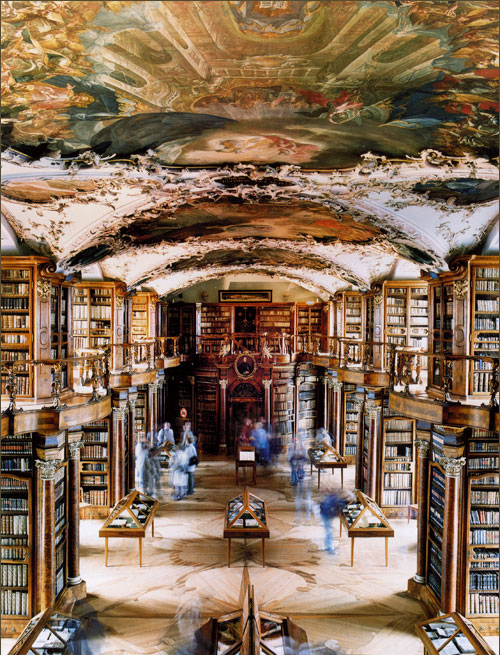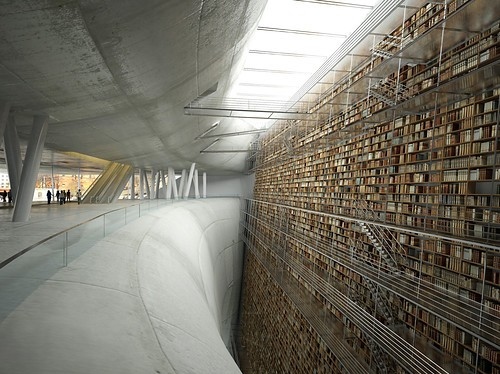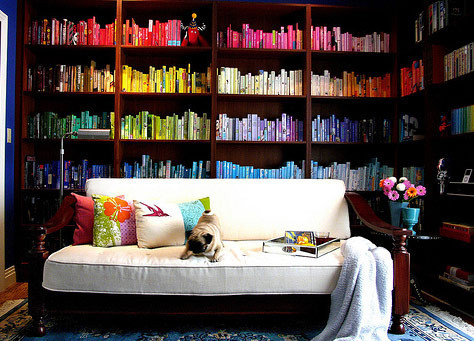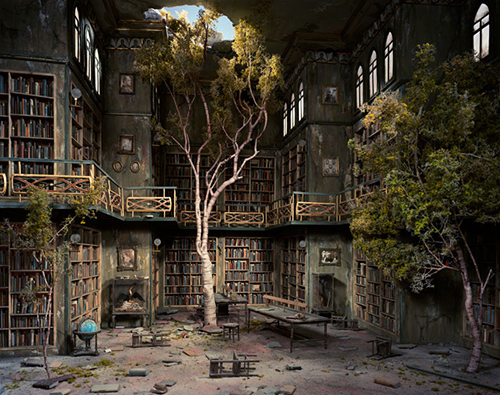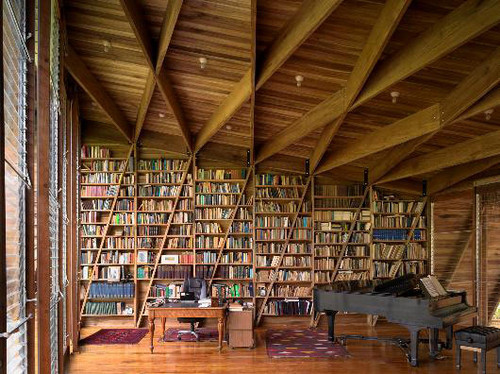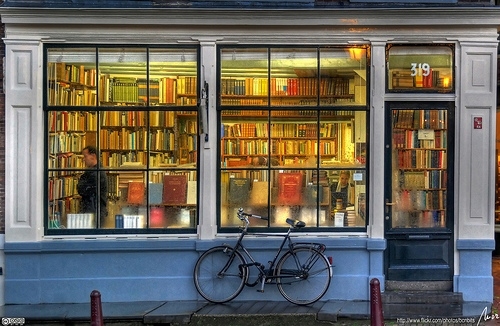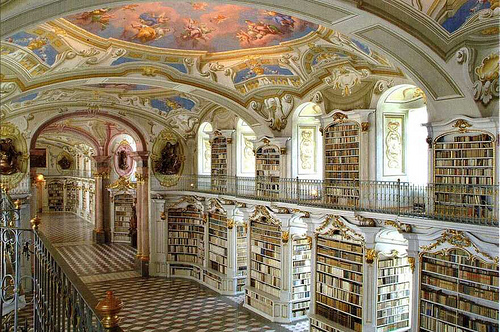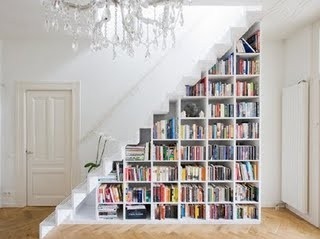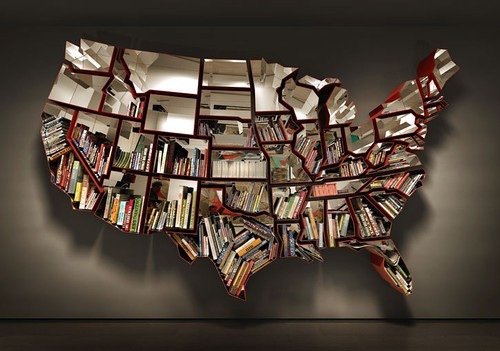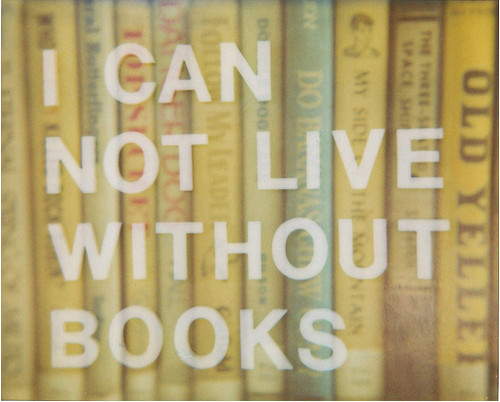 All images above, except for "Bailey with Books" and where otherwise noted can be found on favim.com and or tumblr.com
Georgia and I are complete book fanatics. From books on art to antique patterns and those out of print treasures, I rate my obsession with gorgeous books right up there with my obsession with smart and functional furniture. This can be a very expensive and space consuming interest (which explains our Bibliophile's Dining Table and Collector's Coffee Table) which is why I am currently on a book buying hiatus until I go through my collection and sort out what I have and how I can fill in the holes. In the meantime I still love visiting antique book shops such as Argosy on the Upper East Side and Bauman Rare Books on Madison in the 50s. On my most recent trip to Argosy, I started browsing the racks of $3 and $10 loose pages from old books as well as their extensive collection of marbleized papers (the best ones are upstairs, so make sure you ask to see those!)
As part of our ongoing product development, I am constantly looking at things, old and new, and thinking of ways to incorporate them into our line. We have always wanted to make paper goods and notebooks so I thought I would try covering some standard paper bound moleskin notebooks with some of the papers I found at Argosy. I tried out a few different adhesives and sealants and settled on Hodge Podge. I like that it left a satin finish and dried quickly. Below are the images and a few instructions.
A COLLECTION OF NOTEBOOKS THAT I COVERED IN ANTIQUE MARBLE PAPERS THE SECOND ONE FROM THE LEFT IS COVERED IN ONE OF OUR OWN FABRICS.
FOR THIS BOOK I USED THREE DIFFERENT PAPERS ON THE FRONT, BACK AND BINDING. I LOVE THE CONTRAST OF PATTERNS AND COLORS.
BE PREPARED FOR A MESS....ABOVE ARE ALL THE TOOLS I USED TO CREATE THESE NOTEBOOKS YOU WILL NEED MODGE PODGE OR ANOTHER SEALANT AS WELL AS SCISSORS, SPONGE BRUSHES AND YOUR FAVORITE COLLECTION OF PAPERS, AND SCRAPS.
While at Argosy I also found the below loose lithograph of JS Bach, the famous classical musician. I knew that my father would appreciate this find (at only $3!!) so I grab it and mounted it on one of the sheets of marbleized papers. For less than $6 I was able to give him a beautifully mounted historical image of one of his favorite musicians. All that needs to be done is framing. I can't wait to make a series of these for the powder room in our new home. It is a beautiful and economical approach to art and decor.
Recent posts
Archive
Tags